When wildlife or birds take up residence inside the walls of your home or attic it is more than just an inconvenience.  Gnawing animals like squirrels can damage wiring, which can lead to fires or expensive electrical repairs.  Birds can bring parasites like bird mites  which can migrate to your living space. And when pigeons take to roosting on your property, the droppings are not only unsightly, they can damage  roofing and painted surfaces.

    GEO concentrates on eliminating squirrels, bats, and void nesting birds like starlings, through use of  exclusion devices which are installed on identified entry/exit points. Upon confirmation of exclusion GEO will seal the entry points.  We also offer service to clean and disinfect interior and exterior structure.

     Pigeons which roost or nest are handle using spikes, repellent gel and netting to seal large cavities which are attractive to rack doves(pigeons.)

          CONTACT US NOW TO SEE HOW WE CAN HELP YOU.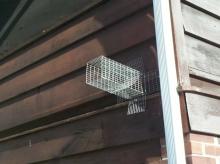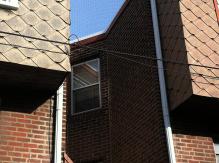 Bird netting installed.  It's almost invisible and  the area is bird free.

215 778 7118                   geotristate@gmail.com