Whether you are buying a home or commercial building or are concerned about termites or wood destroying insects such as carpenter bees, carpenter ants or powder post beetles, in your current property,  we can inspect your structure. 

   >Our licensed inspectors will carefully examine your property.

    >We will provide a computer generated NPMA 33 form, commonly referred to as a "termite certification".

    >Any noted wood destroying insect activity will be  graphically documented. 

    >If treatment is recommended, a cost analysis will be provided.  

   >Our reports will be delivered electronically to you and any other concerned party such as realtors or underwriters, according to your wishes. 

Need a reliable wood destroying insect or termite inspection?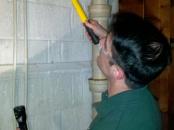 215 778 7118                   geotristate@gmail.com