Unwanted pests are the bane of many a homeowner or building manager's existence.  From ants, roaches, fleas and bedbugs to mice, and rats we are ready to tackle your problem. 

     Our licensed pest control professionals will diagnose your problem and recommend treatment options for you.  All service is tailored to your needs and situation.  We have maintenance plans of varying frequency based on your situation. 

      We use Termidor in our liquid termite treatments and offer extended warranty upon completion of our work.  Bait systems are available as well.

       Our mouse and rat service always begins with an inspection of the physical structure in order to identify issues contributing to rodent access.

       Bedbugs fleas and roaches are treated leaving no stone unturned.  Their insidious nature requires an approach that coordinates the building occupants with our professionals.  We will guide you along the way as we treat accordingly.

        Please contact us with any pest issues you may have.  We are always ready to discuss your situation.

215 778 7118                     geotristate@gmail.com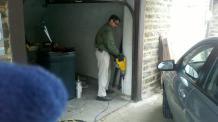 Drilling for a Termidor termite treatment.